Product description
When it's cold outside your feet will be toasty and warm in your grey wool knee-high socks for women with sweet Bubblegum label! These SOXS have a classic and timeless design with a trendy pink twist. The great length ensures that not only your feet but your legs stay warm this winter! The long socks rise to just below your knee and are great to wear with tall winter boots. And if you are in the mood to stay at home to read a book or to spend time with your family, these warm knee socks are your coziest friends! You'll enjoy the incredibly soft feel of our animal-friendly wool. These winter socks provide a high level of wearing comfort thanks to their excellent breathability, thermoregulation and moisture-wicking properties. SOXS' grey wool knee socks for women are your ideal companion throughout the day. Whether you go skiing, stroll through the city or stay at home.
SOXS wool socks are knitted from 60% high-quality sheep wool from New Zealand and 40% elastic Polyamide. These wool socks for women are available in sizes 34-36, 37-41 and 42-46.
100% Made in Europe
Produced in an ecologically responsible way
Breathable due to the high-quality structure
Do you want to benefit from our super-fast shipping? Order before 16:00 so that your new wool favorites arrive at your home quickly.
*Delivery by post within 2-4 days.
The best way to wash the SOXS is by hand. The simplest thing is a washing machine with a wool washing program and wool detergent. Wash at a maximum of 30°C and centrifuge at a maximum of 600 revolutions per minute. Important note: Do not put the SOXS  in the dryer!
Guaranteed 100% itch free!
Fresh & Friendly
Say goodbye to itchy wool!
No more itchy feeling when wearing SOXS. By combining traditional New Zealand sheep's wool and modern technology, we have developed a wool fiber that does not itch. In addition the woolen items from SOXS are wonderfully elastic. This guarantees long-term fit and prevents it from wearing out. Some grandmothers would envy us this result!
Bekijk het product men westie green label medium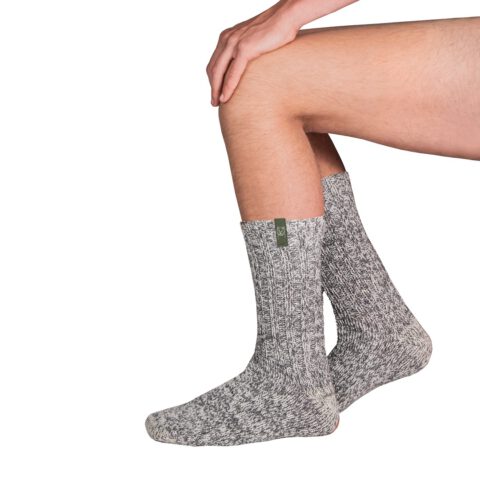 MEN WESTIE GREEN LABEL MEDIUM