Product description
These pink wool knee high socks for women with our Blushing Pink label may look cute and shy, but they are secretly just really cool and sturdy! Give your winter outfit a trendy and eye-catching twist with these knitted pink socks. These SOXS are awesome to match with skirts, dresses, and your favorite winter boots. Or perfect for your me-time moment: comfy in your bathrobe with these beautiful pink colored wool socks around your feet and legs! These women's socks have a great length and can be pulled up to just below your kneecaps. You'll enjoy wonderfully warm feet and legs throughout the day. Thanks to the excellent insulating properties of the best sheep's wool. Isn't that a pleasant thought? The pink wool knee socks for women with Blushing Pink label are limited available, so be quick!
SOXS wool socks are knitted from 60% high-quality sheep wool from New Zealand and 40% elastic Polyamide. These wool socks for women come in a one-size-fits-almost-all-ladies in size 37-41.
100% wool of the highest quality
Produced in an ecologically responsible way
Breathable due to the high-quality structure
Do you want to benefit from our super-fast shipping? Order before 16:00 so that your new wool favorites arrive at your home quickly.
*Delivery by post within 2-4 days.
The best way to wash the SOXS is by hand. The simplest thing is a washing machine with a wool washing program and wool detergent. Wash at a maximum of 30°C and centrifuge at a maximum of 600 revolutions per minute. Important note: Do not put the SOXS  in the dryer!
Guaranteed 100% itch free!
Fresh & Friendly
Say goodbye to itchy wool!
No more itchy feeling when wearing SOXS. By combining traditional New Zealand sheep's wool and modern technology, we have developed a wool fiber that does not itch. In addition the woolen items from SOXS are wonderfully elastic. This guarantees long-term fit and prevents it from wearing out. Some grandmothers would envy us this result!
Bekijk het product women bittersweet label medium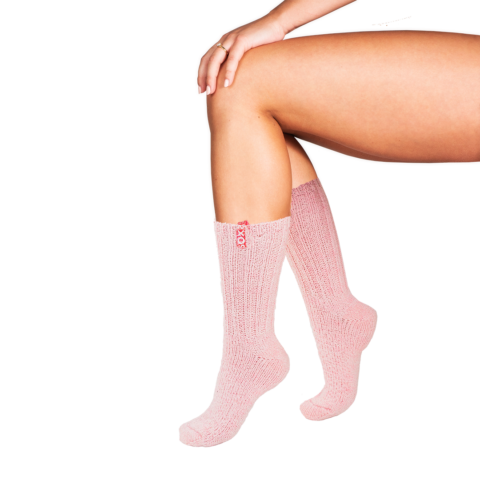 WOMEN BITTERSWEET LABEL MEDIUM
Bekijk het product pms losse sokken
PMS losse sokken
High Sock, Medium Sock, Low Sock